Bangalore, Nov. 19: In an attempt to ease movement of vehicles between the Bengaluru International Airport (BIA) and the city during peak traffic hours, the Bengaluru traffic police on Saturday announced a ban on heavy vehicles movement between the Sadahalli toll gate and the Hebbal junction during peak hours on trial basis.
The ban will be effective between 8.30 am and 10.30 am every day, according to an order issued by the Bengaluru Traffic Special Commissioner M A Saleem, who took charge recently.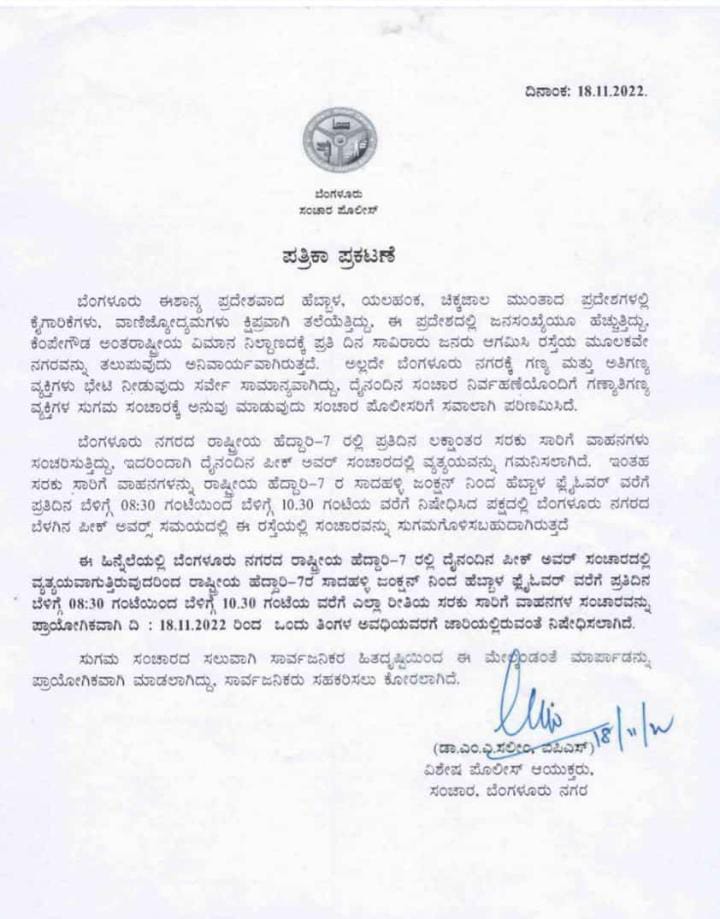 "All types of goods vehicles are prohibited between 8.30 am to 10.30 am towards Hebbal from 18.11.2022," the Hebbal Traffic Police said on Twitter.
The North-East division comprising Yelahanka, Hebbal, Chikkajala and other areas have been witnessing an unprecedented growth in industries and population. As a result, the free movement of traffic has hindered due to high volume of vehicles. BIA airport being a VIP corridor it is a challenge for the traffic cops to ensure smooth flow of vehicles. In this background, the traffic cops have issued the new traffic advisory to streamline the traffic movement.
Please follow and like us: