Bengaluru, May 29: India faces a dearth of at least 1.5 lakh nurses and 50,000 doctors to fulfil the growing demand of healthcare. The underserved healthcare system in India is facing a dearth of trained management professional to steer the transition in healthcare enabled by technology, evolving consumer dynamics and business models.
Further aggravating the challenge is the dearth of trained and skilled management personnel with skills and expertise to manage the healthcare organisations efficiently and effectively.
As stated by the recent reports, there is a lack of adequate healthcare professionals and infrastructure at several public healthcare centres (PHCs) in Karnataka . With only one district hospital for 10 lakh people and one taluk hospital per 1.5 lakh people , adequate health infrastructure and shortage of human resource is one of the biggest problems in Karnataka.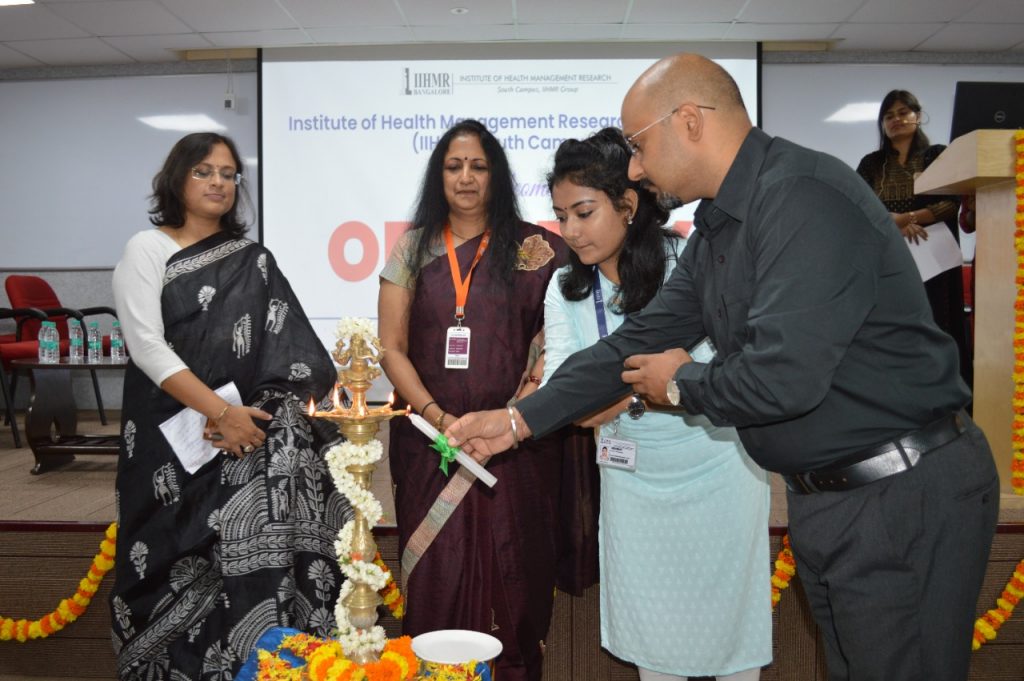 The state government has ambitious plans to strengthen the healthcare infrastructure and developing Bangalore as a preferred destination for medical tourism in the world.
Besides, being a home to largest number of Unicorns in 2021, Karnataka is also a preferred destination for FDI in India. Amidst these times, the healthcare managers would play a crucial role in developing and managing the new age healthcare systems by leveraging the modern technology and management practices. The need of the hour is to develop an army of healthcare management professional to augment the public and private healthcare management by giving emphasis on innovative practices and technology.
Preparing the younger generation for this noble cause, Institute of Health Management Research (IHMR)-Bangalore, offers a two-year full-time Postgraduate Program in Hospital and Health Management with specialisation in Hospital Management, Health Management, Health Information Technology Management and Pharmaceutical Management. Ranked 19th among top non-IIM's 50 B- School, 10 best B School in Southern India from the prestigious media house The Week and The Outlook, Post Graduate Program is approved by the All-India Council for Technical Education (AICTE), accredited by NBA (National Board of Accreditation) and accorded MBA equivalency by AIU (Association of Indian Universities). International collaborations and partnerships with top hospitals and healthcare organizations such as Maastricht University, University of Mysore, Piramal Swasthya, Sri Rajarajeshwari Medical College and Research Center, Burjeel Hospital, UAE, Narayana Hrudalaya etc. have added values in the course curriculum and industry exposures.
A cut above the rest, IIHMR Bangalore's post graduate program has been crafted through the lens of modern business fundamentals in consultation with the healthcare industry leaders experienced faculty members and industry stakeholders. We also offer a gamut of industry-specific training programs to upskill healthcare business leaders with strategic mindset to build, lead and manage the modern healthcare business ecosystem. This program brings forward an opportunity to develop management competencies, to understand healthcare business, the new imperatives for growth and its practical application to spearhead the national, organizational and individual's growth.
Speakers who addressed are : Dr Usha Manjunath, Professor and Director, IIHMR Bangalore
, Dr Kirti Udayai, Associate Professor and Associate Dean Academics and Student Affairs, IIHMR Bangalore
and Mr Piyush Kumar, Associate Professor and Associate Dean Training, IIHMR Bangalore
Please follow and like us: