Unholy nexus between officials and a few persons lead to huge loss to BDA
Bengaluru, March 9: In one of the major scams in recent days, BDA land worth over Rs. One thousand crore has been allegedly illegally swindled by a few persons with the support of influential persons, alleged film producer and Kempegowda Hospital president Umapathi Srinivasa Gowda, without taking the name of Bommanahalli MLA Satish Reddy.
Addressing a press conference on Thursday at a private hotel in the city, he flashed voluminous documents and alleged that about 25 acres of valuable land at Devara Chikkanahalli in Begur Hobli of Bengaluru South Taluk worth over Rs. One crore has been amassed with the connivance of BDA officials, he alleged.
The BDA had notified the land for the BTM Layout in 1986-87 and subsequently final notification was issued in 1998. Later, after providing compensation to landlords the layout was formed by the BDA. The BDA had spent a whopping Rs. 16 crore to provide infrastructure viz roads, drains, Underground Drainage and electricity poles.
A few vested interest people approached the court against the notification. However, they did not succeed. They subsequently, approached supreme court. Unfortunately, for them, the supreme court upheld the decision of the division bench. The court said that the layout has been formed by the BDA about three decades ago and hundreds of people are living by constructing houses. Hence their appeals were rejected, he added.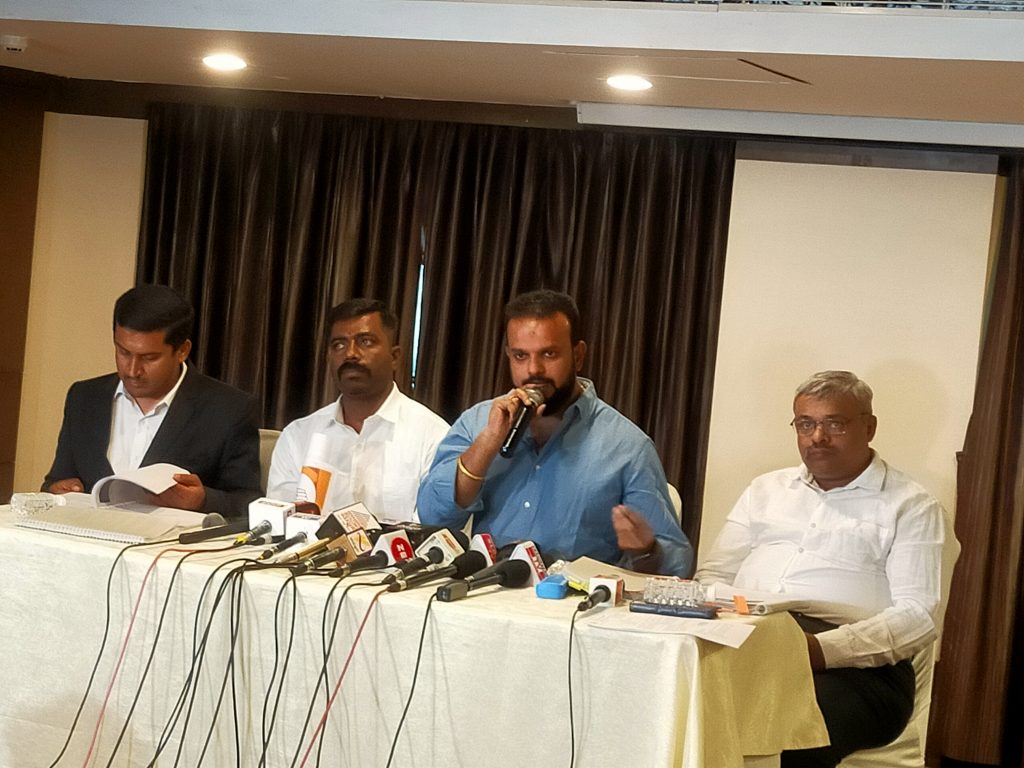 Amidst all these developments and court order, in 2016 a magic of sort development took place. By keeping the BDA officials in dark about the court order, a few landlords used their clout to grab the BDA land. Subsequently, the land was fenced and revenue layout was developed. Major developments took place and rampant construction activity took place.
Incumbent MLA Satish Reddy's father Munireddy and his relatives are involved in the alleged scam, he said.
Umapathy was accompanied by advocate Vivek, Bommanahalli Congress spokesperson Anil Reddy and others were present.
With the assembly polls round the corner political accusations between the parties have come to fore. Umapathy is one of the MLA aspirant for the Bommanahalli constituency which is a strong fort of BJP and Satish Reddy.

Satish Reddy is kind a undisputed Reddy leader in Bommanahalli. It may be recalled that a few days back, Reddy had got life threatening calls. Following his complaints a few accused were arrested. They have been subjected to interrogation.
Please follow and like us: