Bengaluru, June 3: Aftermath of two separate non-departmental fatal accidents in the city recently due to unattended OFC cables and illegal power supply drawn to the advertisement hoarding, the BESCOM has taken up the special drive to clear unauthorized and unattended OFC, dish and data cables which are laid on the distribution network.
Standing instructions have been given to all Chief Executive Engineers (CEEs) of 8 districts of BESCOM to remove the OFC cables, dish, data and unwanted electrical items dumped at Transformers units. It may be recalled that non-departmental fatal accident has taken place near Sanjayanagara, person died after he accidentally touched OFC, which was laid on the distribution network of BESCOM.
After the instructions of BESCOM MD and Director (Technical), the Chief General Manager (CGM)(Operations), M.L. Nagaraj has issued an order to all CEEs, SEEs and EEs of BESCOM to remove OFC, Dish and any unauthorized cables and wires laid on electric poles. He has stated that BESCOM has received complaints regarding lying of unattended cables and wires on the distribution network, it has become problematic for the free movement of pediatricians.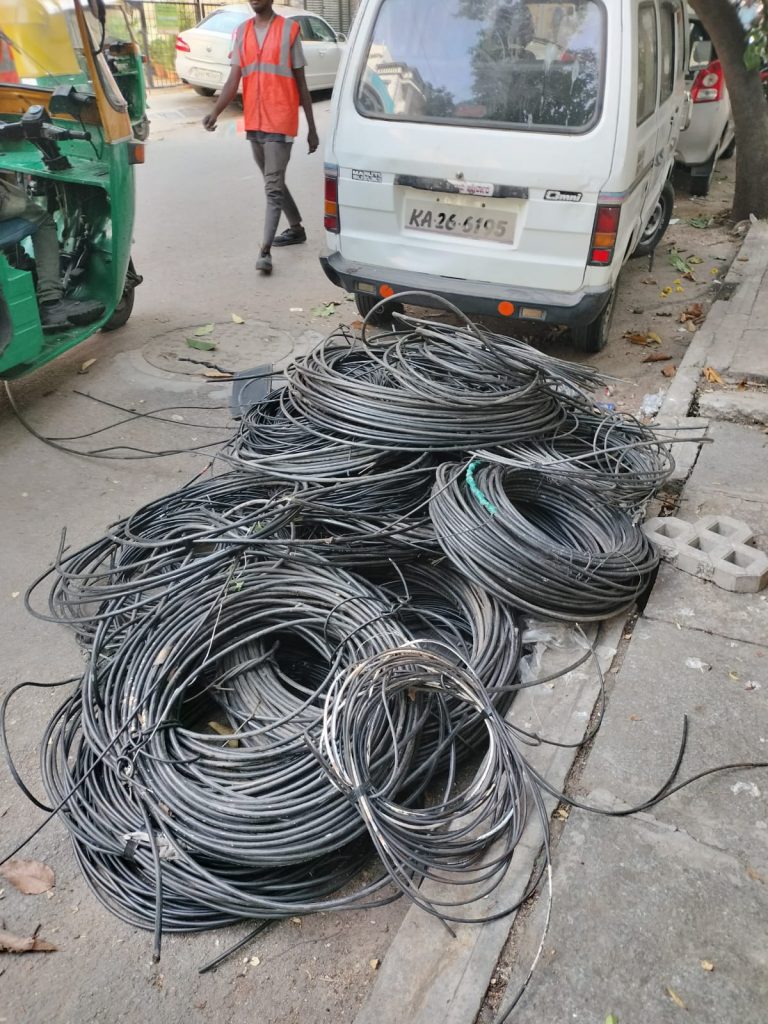 After the instructions of the BESCOM corporate office, four circles of Bengaluru Urban district, BESCOM staff has speeded up the removal drive of OFC. Under the special drive, BESCOM officials have removed 1,46,281 meter OFC, 87665-meter Dish cable, 87,007-meter internet data cable and 928 hazardous electrical items situated near TCs have been removed by end of May 2022, said M.L. Nagaraj, CGM (Operations). Removal of unauthorized and unattended OFC has been underway and it is a continuous process. Unattended wires at public accessible places have been carried out in Bengaluru Metropolitan Area Zone (BMAZ), Bengaluru Rural Area Zone and Chitradurga Area Zone said senior officials of BESCOM.
BESCOM officials have been authorised to lodge complaints against private service operators for the repeated offence of laying cables on electric poles. Local BESCOM officials have been asked to ensure the fixing of the Earth-leakage circuit breaker (ELCB) for public accessible installations like park, bus shelter, advertisement boards, hoardings.
BESCOM senior officials directed field officers to remove and clear the OFC and wires by June end and also directed them to file a progress report in this regard. During monsoon season, fatal accidents are common due to unattended and unauthorized OFC and wires. CGM operations also issued a warning that action will be taken to the officers who failed to remove unauthorized cables and wires.
Removal of unauthorized cables: 33217 meters OFC removed in Bengaluru North circle in which 16565 meter removed in Hebbal division alone. 13517-meter dish cable and 10532-meter internet data cable have been removed in North circle of BMAZ, said BESCOM.
61304 meter OFC, 45037 meter Dish wire, and 52530-meter internet data cable have been removed in east circle of BMAZ.
In West circle, 7605 meter OFC, 8625-meter dish, 8345 internet data cable and in South circle of BMAZ, 44163 meter OFC, 20486-meter dish and 15600-meter internet data cable has been removed, said BESCOM senior officials.
In Davangere circle, 1320 meter OFC, 47259-meter dish, 238-meter internet data cable has been disconnected. In the Tumakuru circle of Chitradurga Area Zone, 450 meter OFC, 13400-meter dish, 1522 meter internet data cable has been removed, says BESCOM. In Chitradurga Area Zone, a total 1770 meter OFC, 60659-meter dish and 1750 internet data cable has been disconnected, said BESCOM officials.
Please follow and like us: