Bengaluru, Sept.1: Ahead of the grand unveiling of 108-feet-tall statue of 'Naada Prabhu' Kempegowda at International Airport, Chief Minister Basavaraj Bommai launched an unique campaign on Thursday of collecting the sacred mud and water from lakes, ponds, kalyanis, rivers, pushkaranis, and streams in all the all villages of the state.
He also performed the bhumi puja for the Naadaprabhu Kempegowda Theme Park organised in the premises of Airport here.
Speaking on the occasion, the CM said, 'those who don't know history cannot create history'. A statue of Kempegowda is being installed in the premises of Vidhana Soudha at a cost of Rs 50 crore. Besides, the statue of Kempegowda will come up in the premises of Lalbagh. The government is spending Rs 84 crore on the installation of Kempegowda statue as well as on the theme park. The said statue will be christened as 'Statue of Prosperity' to indicate the feelings of 'Naada Prabhu'.
Bommai said the proposed campaign will be inclusive and it will be a biggest step in building 'Nava Karnataka' (new Karnataka). This will be indicate the commitment of the government for all over development of the State.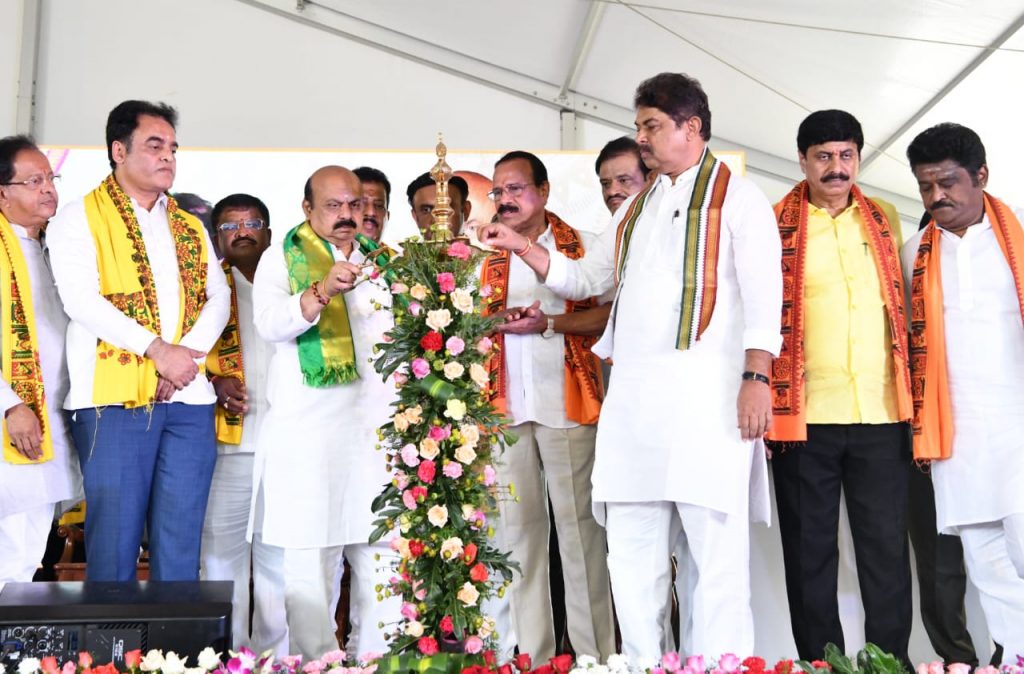 Higher Education Minister and Vice-President of Naada Prabhu Kempegowda Heritage Sites Development Authority, Dr C.N.Ashwath Narayana said Kempegowda was responsible for laying a strong foundation which has helped for Bengaluru to become famous. Ahead of the grand opening, a 45-day state-level abhiyan was launched from today during which mud and water from all tanks, lakes, pushkaranis, and other waterbodies from every village in the State will be collected. Prime Minister Narendra Modi will unveil this statue. Seeing the schedule of the PM, it is planned to get the statue unveiled on November 1.
He said the 'Naada Prabhu' was a ruler with vision and because of him Bengaluru is safe and secure. The State government wants to remember Kempegowda forever. As part of the campaign, a LED lit decorated vehicle will tour all 31 districts. It will have the messages of great people and will also show a documentary on Kempegowda.
The minister said the theme park will be developed in two stages. The first stage works will complete in another nine months and Rs 20 crore has been released for this purpose. The Heritage Sites Development Authority is giving facelift to 46 places connected with the life of Kempegowda. The 'Veera Samadhi' of the great warrior in Kempapura in Magadi taluk will be developed completely. Besides, Kempegowda Study Centre is being established in Bengaluru University campus at a cost of Rs 50 crore.
Former CM and MP D.V.Sadananda Gowda, Health and District-in-Charge Minister Dr.K.Sudhakar, Revenue Minister R.Ashok, Co-Operation Minister S.T.Somashekar, Horticulture Minister N.Muniratna, Sports and Youth Services Minister C. Narayanagowda, Excise Minister Gopalaiah, MP P.C.Mohan, Rajya Sabha member Jagesh, Legislative Council BJP Chief Whip Y.A. Narayanaswamy, BDA Chairman S.R.Vishwanath, L.N.Narayanaswamy and A.Devegowda were present.
Additional Chief Secretary (Urban Development) Rakesh Singh, Bengaluru Rural Deputy Commissioner Latha, Authority Commissioner R. Vinay Das and others were present.
Please follow and like us: